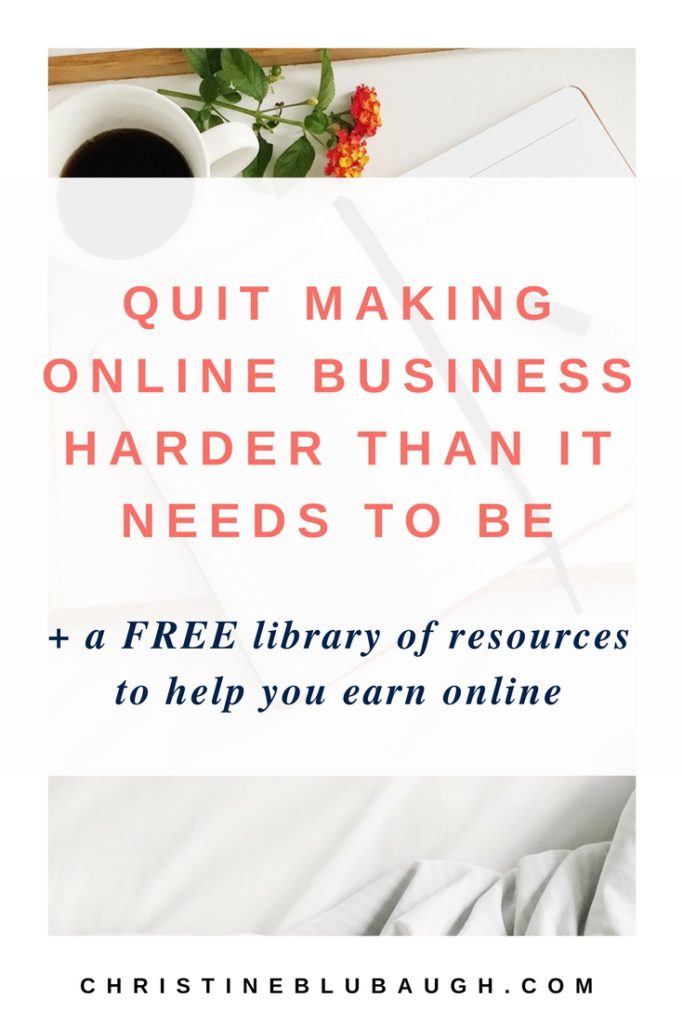 Running an online business can be pretty complex and involve lots of moving parts…
website platform
lead generation software
email marketing service
scheduling tool
custom email addresses
bank accounts
social media scheduler (or three – because one does Pinterest, the other Instagram, and don't forget about those tweets that never bring in clients…)
Lately, my head has been about ready to roll off my shoulders. There are so many freakin' pieces to keep track of (and way too many passwords), not to mention the cost of all these "essential" platforms.
It can make online business seem elitist, expensive, and impossible to crack – especially if you're just getting started.
But here's the thing – it doesn't have to be so mind-bendingly difficult.
If you're listening to some of the top online business strategists, you might think you have no chance of succeeding unless you've got Leadpages, Clickfunnels, Ontraport, GoToWebinar, SamCart, Buffer, a Facebook ads manager, and a personal assistant for your gold fish.
I've definitely gotten caught up in the software fervor myself and the thinking that my revenue and, therefore, my life depended on setting up the world's most convoluted sales funnel with trip wires, upsells, and 13 email sequences.
But that's sh*t is madness.
The longer I've been in business, the more I've gravitated toward entrepreneurs who keep it simple.
Like my mentor, Melissa Cassera, who does one big launch each year and swaps the complex lead nurture strategy for consistently amazing newsletter content that makes her readers totally obsessed with her work.
Or like my biggest writer crush, Alex Franzen, who broke up with social media (like she doesn't use it AT ALL) and relies on word-of-mouth referrals to grow her list and her client base.
These women are living proof that marketing strategy can be stripped down to the basics and still lead to beaucoup bucks and totally raving communities of fans.
And if they can do it, so can we.
If you've already got your convoluted, complex systems set up, and they're totally working for you, then that's amazing. Do you, boo.
But if you're just getting started and find yourself running in circles after this, that, or the other strategy or platform, and you aren't gaining any real traction – slow it down. Step it on back. And keep it simple.
Here are 3 things you can focus on besides the latest make-money-in-your-sleep strategy that will actually help you make more money (possibly while you sleep)…
1. Focus on developing real relationships with colleagues.
Believe it or not – online business isn't a competition. You can choose to think about your colleagues as competitors, or as friends. I can tell you from personal experience that the latter will get you further, faster.
Instead of obsessing over Zapier integrations, spend time nurturing relationships with people in your industry. Offer your help and expertise without expecting anything in return. Go out of your way to do nice things for people. You'll be amazed at the opportunities that come your way.
2. Connect with and get to know the people in your audience.
Your clients and future clients are your number one priority. Take steps to get to know them and what they want, make them feel like you give a d*mn, and watch the sales start to roll in.
3. Create content that's truly valuable and exciting for you and your followers.
Since you're spending so much time getting to know your audience, you can create content that's worthwhile for them. Teach them something, show them your process, and give them a behind-the-scenes look at your life as a business owner who cares about them.
When you shift some of the focus off of complex funnels, systems, and software and back on to relationship building and content creation, you'll start to see way more success for your business and brand.
What do you think? Do you ever get caught making business more difficult than it needs to be? How can you simplify things? Tell me in the comments!
Get inside the FREE online biz resource library!