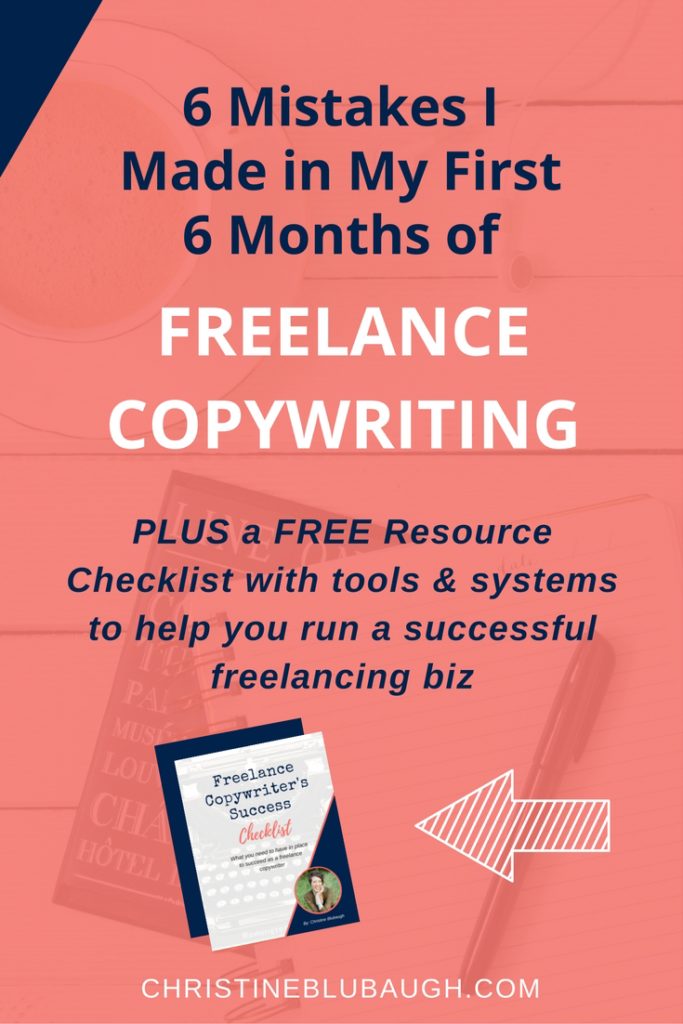 My first six months of freelance copywriting have been a whirlwind of trial and error, epic highs and embarrassing lows, and learning how to succeed as I go along.
If you're a new or aspiring freelance copywriter, I want to help you move through your beginning stages of business with a little more grace and ease than I have, so I'll be publishing regularly about my experience.
I also created a free checklist that outlines the pieces you want to have in place from the get go to make your freelance business run smoothly. Look for the turquoise box further down the post to grab yours.
6 Mistakes I Made in My First 6 Months of Freelance Copywriting
Mistake 1:  Not treating hourly pay like a gnarly disease
It might seem like a good idea to charge an hourly rate for your work – I thought it was – but I wish I had avoided it from the very beginning.
Some clients will prefer it and ask for it, but in the end it made me feel forced to churn out material quickly. That emphasis on speed definitely robbed my work of quality, and I ended up resenting what I was doing. I didn't feel like I was improving my skills.
Also, in an attempt to "prove myself" early on, I was pumping out work at a pace that wasn't sustainable. My clients got used to that, which made it difficult to slow down and end up charging them more.
I now exclusively charge per project rates, which takes away the pressure of attaching an amount of time to my work.
Mistake 2:  Not establishing boundaries with new clients immediately
It's so much easier to let a client know how you work before you're in the weeds with them. I learned this one the hard way.
Make it clear when you're onboarding a new client exactly what your policies are in regards to communication, revisions, payment, turnaround time, etc. Include these items in your written agreements, and discuss them before you get started with any work.
If you don't want clients calling you randomly or expecting you to answer emails 30 seconds after they send them, then establish this upfront. If you don't want to go back and forth on revisions a dozen times, then create a system for revisions, and make sure your clients understand it from day one.
Mistake 3:  Wasting time & effort on admin tasks that could be automated
I started to see pretty quickly that dealing with scheduling, contracts, and invoices for all of my clients was time consuming and stressful.
I've felt like I've been spending way too much time on these admin tasks (that I don't particularly enjoy). My mentor recently suggested a client management software called 17Hats, which I will be implementing in the next couple of weeks.
A system like this allows you to automate your client onboarding process, including consultation scheduling, intake forms, contract sending & signing, as well as invoicing. I can't wait to have it in place. Once I do I'll share a detailed review of my experience.
Mistake 4:  Taking on too many client projects at a time
My business took off pretty quickly, and before I knew it I had a crazy number of projects on my plate. I was saying yes to everything that came my way, because – yay! Money! Clients!
All of my time was going to client work, and zero was going to growing my business, marketing it, creating any sort of system for taking on new clients. I was doing everything differently with each new client and wasting tons of time and energy in the process.
The experience was great, but I now see the importance of working ON my business and not just IN it.
Mistake 5:  Not staying in touch regularly with referral partners
About 90% of my business thus far has come from referrals. In fact, as of writing this post, I have not spent a cent on advertising. I do promote myself on Instagram, which has definitely brought in some clients, but referrals have been the bread and buttah of my biz.
When you find a potential referral partner or if someone randomly refers a client your way, be sure to put effort into connecting with that person. Email them occasionally to see how they are and how you might be able to help them. Thank them whenever they do send a client your way.
Referrals are amazing, because you don't have to do the work of nurturing a cold lead into becoming a client. They're handed to you with a glowing recommendation. Honoring the people who have been willing to do that for me has led to even more referrals.
Mistake 6:  Feeling obligated to say yes to projects that made me want to throw my laptop out the window
My first six months have consisted of me saying yes to pretty much everything that's come my way. It's given me a lot of experience and insight into what I do and don't like to write.
Now that I've been sort of a generalist, writing everything from website copy to blog posts to articles and Facebook ads, I have a really good idea of how I want to niche down. Moving forward there will definitely be projects that I welcome with open arms and others that get a big ol' HELL NO.
Are you new to freelance copywriting? What's your experience been like so far? Have any tips to add to this list? Share them in the comments!