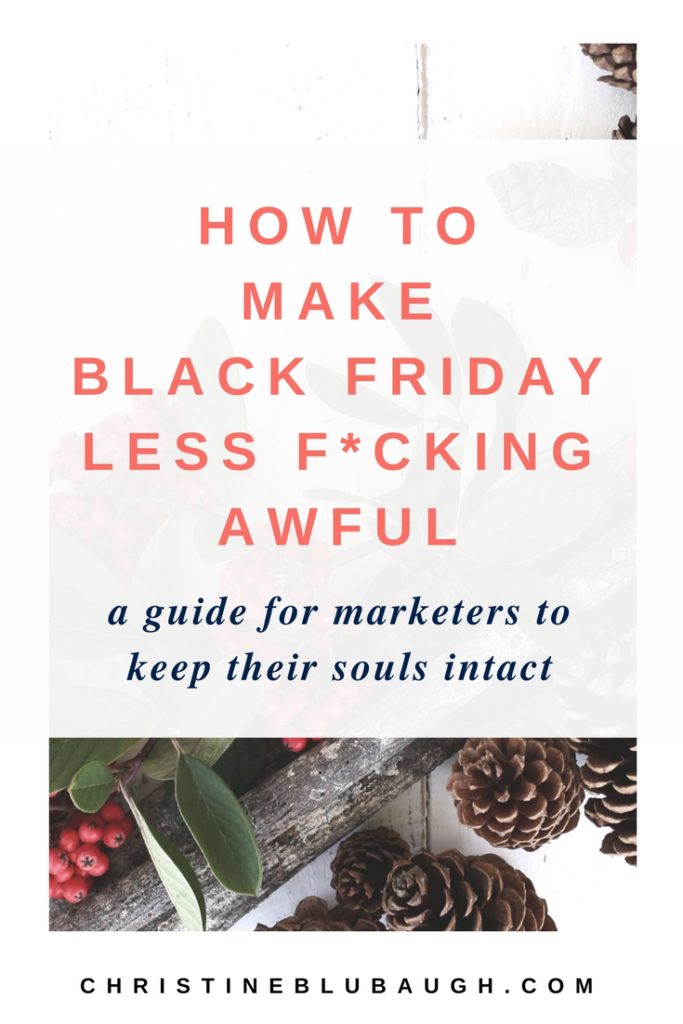 It's almost that time again…
Throngs of people camped out on the concrete in front of Walmart at 3am.
Old ladies throwing elbows to get the last flatscreen TV or latest laughing Muppet.
Door Busters! Limited Quantities! Epic Savings! You'll Never Ever Ever Ever Again Get It for This Cheap – Ever Again! Ever!
You know the scene. It's plastered across the news stations every year. It's all of America's worst consumerist tendencies wrapped up into 24 (48? 72?) hours of mayhem. With a red f*cking ribbon on top and Mariah Carrey screeching carols in the background.
If you can't already tell, I don't have a very shining opinion about Black Friday. In fact – I think it's the worst.
And I think as business owners, marketers, and human beings, we have the choice to either feed the Mass-Consumption, Made-In-a-Sweatshop-Monster, or make an effort to force it back into the pit of ebony awfulness for which the day is named.
Here are 3 ideas you can swipe to shine some light on the darkness of Black Friday and keep the integrity of your soul intact:
1. Donate the profits of your Black Friday Sale for Giving Tuesday.
If your business is having it's own Black Friday Sale, consider donating some or all of the profits to your favorite non-profit on Giving Tuesday.
Giving Tuesday takes place the Tuesday after Black Friday, when people are encouraged to give money to those less fortunate. It's what the whole "holiday spirit" thing is supposedly about, right?
Instead of forking over those greenbacks to the cashier at Target, give 'em to organizations that help women start businesses, give people access to clean water, or provide education to the underserved. It's good for the soul!
2. Avoid Black Friday and promote (and shop!) Small Business Saturday Sales instead.
I know, I know. Best Buy and Old Navy have the best deals. How can you possibly pass up the half-price Play Stations and $3 sweaters?
But here's the thing. You and I? We're small businesses. We need to stick together and support one another. Walmart will survive if you don't buy your Christmas cards from them. But that artist selling hand-made cards on Etsy? They're actually depending on each and every sale – possibly to keep their phone turned on or their cupboard stocked with Ramen.
Consider quality over quantity. Original over cheap. Small business over corporate conglomerate.
It's also good for the soul!
3. Avoid Black Friday and Opt Out(side).
The outdoor company, REI, started their #OptOutside campaign back in 2015. Every year since then, they've chosen to close all of their stores on Black Friday, pay their employees to take the day off, and encourage everyone to venture outdoors.
Not only are they opting out of the Black Friday madness, they're also promoting what their brand is all about – hiking, cycling, climbing, camping, and all that other outdoorsing stuff they sell equipment for. It's pretty brilliant. And definitely enticing.
Imagine spending the day surrounded by the beauty of nature, instead of slogging around under fluorescent lighting (that makes you look like ish, bee-tee-dubs) at the mall. Doesn't that sound so much more pleasurable?
And, you guessed it – nature is also amazing for the soul!
You might choose one of these ways to make Black Friday less bleak, or you could really do some soul-saving and go for all three.
(I realize you might also say – screw you, Christine – as you line up outside the Apple Store, ready to beat down anyone who stands between you and your destiny – aka: that shiny, new i-Phone X).
Whatever you choose to do with your time and money this Friday, know that I'll be in the woods, with my dog, not offering you the cheapest limited quantity epic savings ever ever.
What do you think of Black Friday? Are you selling? Buying? Giving? Something else? Tell me in the comments!